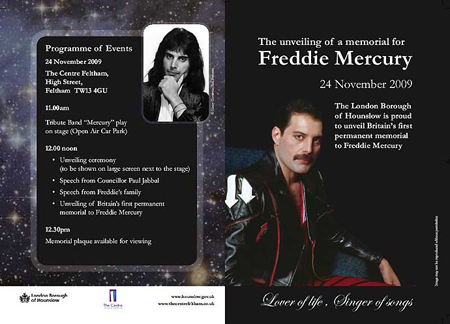 Mercury were very honored to be asked by Freddie Mercury's family to perform live at the official unveiling of the UK's first permanent memorial to the life and work of Freddie Mercury at Feltham London borough of Hounslow on Tuesday the 24th November 2009.
We decided to travel down the night before the show, as we had a 9 o clock arrival time at Feltham and considering the morning 'rush hour' London traffic,we took the easy option!
On arrival, the stage and enormous TV screens were being assembled, the hard working crew had been there since dawn, working against strong winds and generally inclement weather conditions, the day did not bode well!
We set our equipment up and did a very basic sound check in front of a few very dedicated early arrivals, we really didn't know what to expect or indeed how many people would or would not turn up for the event.
As show time at 11 o clock approached, we prepared for our show still wondering if anyone would be there and despite continued reassurance from our crew Ian and Graham that it was 'filling up' we still wondered.
As we walked out on stage to the sounds of the 'One Vision' intro, we were shocked to see the Market Place completely full and what a fantastic crowd they were! I noticed that several countries and different Nationalities were represented by 'Freddie fans' who must have travelled an awful long way to be there. From my privileged position behind the drums, I could see that everyone knew all the words to all the songs (probably far better than we do). What an awesome atmosphere. Midway through the set, I looked up at the library window and saw the unmistakeable figure of 'Sir' Brian May. Now it is very hard to describe the feeling of being on stage, pretending to be someone else and that someone else is watching you. I think Sir Alex Ferguson came up with a suitable phrase when he described something as 'squeaky bum time.' It is a very unnerving experience, I experienced it myself some years ago in Majorca when Mercury performed in front of 'Lord' Roger Taylor. I didn't tell Glenn that he was there, although we knew that he was due to arrive at 1130.
We didn't plan to do any encores, as we knew that we were running to a tight schedule, however our public demanded more, so we did We Will Rock You into We Are the Champions, there was truly no way that we could leave without performing Champions (o.k. we did plan encores) and at 1157 we left the stage and sprinted (no mean feat at my age) around the block to the front of the building for the unveiling ceremony. We felt very privileged to be invited into the VIP area for this.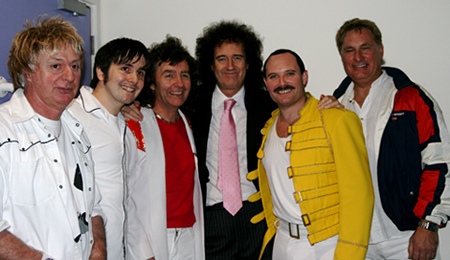 Speeches were made by several people as is well documented in the programme, but the speeches that stick in my memory are the ones by the Mayor (ignorant and not funny) and Jer Bulsara, Freddies Mum. She made everyone cry with a very moving speech that came straight from the heart. We have met Mrs Bulsara on several occasions before at our shows but I always remember the very first time that she, Kashmira and Roger came to see us and we performed Days Of Our Lives and I found it so emotional that I couldn't sing my harmony, Bud our front of house Engineer engineer at the time said that Mrs Bulsara had her handkerchief out too! Her speech was wonderful. She was followed by Brian May who made everyone laugh and cry in turn, speaking as Freddies 'friend and colleague' he made a wonderful speech that again came from the heart. Then came the unveiling and what a marvelous memorial it is. I advise every Queen fan to make the pilgrimage to Feltham to see it. Credit to the council for doing it.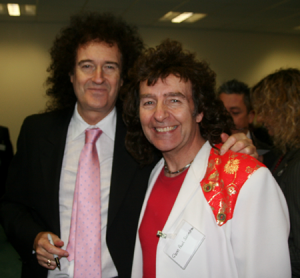 Afterwards we joined the assorted VIP's upstairs, while Brian May was downstairs signing hundreds of autographs and doing TV interviews (I wish that I was famous).
We were joined by the lovely Andy and Claire Sparks, Andy is the biggest Queen fan that I have ever met and probably had one of the best days of his life. Nice one Andy, shame you're a Pompey fan and love to Claire.
We met Jacky who runs the official Queen fan club (about time we did the Convention again Jacky), Mrs Bulsara and Kashmira and Roger Cooke, we also met the very talented man who designed the Freddie memorial and he explained to me that the original idea was for a simple 'Hollywood style' star and it just grew in to the magnificent memorial it now is.
What we were really waiting for was to meet Brian May and eventually it happened. In fairness, it must be very strange for him to meet a group of people who pretend to be him and his band. What a nice man, he had a long chat with us and posed for photographs with us and I would like to thank him on behalf of Mercury for making our day.
So in summary, Mercury would like to thank Hounslow Council for organizing the event. Jer, Roger and Kashmira for inviting us to do it, chiefly Roger as I know that he did the organizing for us, I would like to thank Joseph Lee Jackson (our Freddie) for organizing it at our end, special thanks to Ian and Graham (sorry for the long wait) and to Brian May for making it special. Final and very special thanks go to you the fans for turning out in thousands to support this fantastic event. We made many new friends that day and I promise you that we return to South London ASAP. Once again, thanks to everyone involved, a fantastic day and God Bless Freddie Mercury.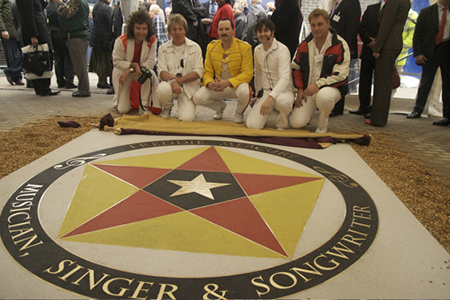 Copyright © 2022 Mercury Queen Tribute - All Rights Reserved